Our Materials
What is vinyl and what are their characteristics?
Let's start with the basics. What is vinyl?
Most vinyl films are made from the same basic raw materials.  Polyvinylchloride (PVC) polymer, which is simply based on plastic, and is, by nature, relatively rigid.
Other ingredients are then added to PVC. These ingredients include: plasticizer to make the film flexible, pigment to the desired color and additives that helps to achieve specific properties, such as UV absorbers "to improve resistance to UV radiation, heat stabilizers, packers and helpers.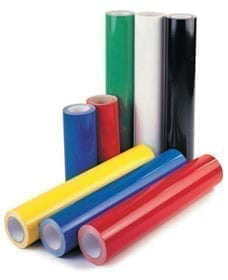 At MoonWallStickers.com we use calandrad vinyl, recommended for interior decoration.
Wall Decals or Wall Stickers use two types of vinyl, cutting vinyl  (die cut) and printed vinyl for (covers for laptops, or any other design), both the type Calandrad.
The durability is influenced by factors such as humidity, heat and dust .
We currently use vinyl "MATTE" (matte finish).