Azeitão Furniture Overlays – MALM Kits
Transform your IKEA® furniture with Moonwallstickers decorative panels. You will be surprised by the final result!
The opportunities to make the most of your IKEA® furniture are absolutely endless! The elegant and simple lines of the IKEA® furniture are the perfect excuse to customize your furniture according to your style.
The "IKEA®" name, logo and brands are trademarks of Inter-Ikea Systems BV.
---
In this product you will find the possibility to choose:
– MALM MODEL:
– MATERIAL AND COLOR:
5 mm thickness PVC:
White PVC
Black PVC
Gray PVC
See our Materials page for more information.
---
REQUIREMENTS:
First, clean the surface you want to cover (make sure the surface is dry before applying the panels);
You can paint before applying the panels, however make sure it is completely dry before starting to glue (white PVC can be painted with spray paint for plastics – contact your local hardware store to choose best paint for that purpose).
---
Do not clean the panels with abrasive materials;
Do not apply the panels on freshly painted surfaces;
Do not apply to surfaces that are not clean.
---
RECOMMENDED APPLICATION PROCESS:
1 – Clean the surface, make sure the surface is free of dust, dirt or moisture. Let it dry.
2 – Apply the Double Sided Adhesive Tape or apply Liquid Nail Adhesive in the back of each panel.
3 – Start the application aligning the panel on top left corner of each drawer. Make pressure in all the places you applied the Double Sided Adhesive Tape or apply Liquid Nail Adhesive.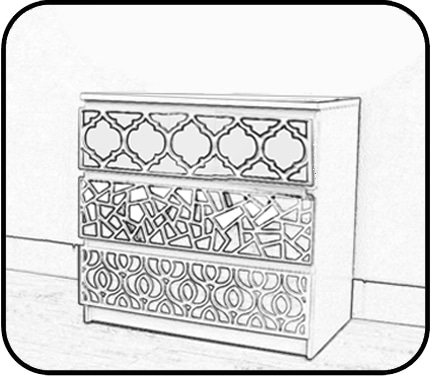 4 – Once the first panel is installed, use the same process with the next ones. Have Fun and Enjoy.
---
Notes:
– All products sold by Moonwallstickers are NOT for exterior use.
– The PVC color isn't the same color as the IKEA® Furniture.
– Product colors may vary slightly due to your monitor's settings;
– The cuts are made by machine (CNC);
– Without any sanding, pore or paint treatment;
– They do not have suspension accessories;
– FURNITURE NOT INCLUDED
– We can customize the product to the size you want, please contact us!
---
Video | How to apply
---
Click for more amazing Malm Kits – IKEA™