Decorative Geometric Tiles
Welcome to Moonwallstickers.com, the tile shop with the most amazing tile patterns, choose Decorative Geometric Tiles.
First of all, this set consists of 24 separated pieces, wall tile decals ( Not for floor option) but you can also choose floor tile stickers (Floor finish option), both will attach easily.
The tile stickers provide a modern look with classic inspirations for the interior walls and floor of any space. Its cozy and comfortable appearance makes it compatible with all styles of decoration, from the modern to the more traditional. The tile stickers create a distinctive aesthetic result for each design turning them into prominent points in any space.
Furthermore, designed to allow you to make the perfect kitchen makeover or bathroom makeover. Certainly each tile stickers perfectly matches your chosen tile size (we deliver pre-cut parts).
As a result, these wall tiles or floor tiles can be applied very easily without any real work or commitment because it is a peel and stick process.
Most noteworthy, we suggest Decorative Geometric Tiles as they are a beautiful and amazing interior decoration and consequently a gorgeous choice.
Our tile stickers will certainly transform your bathroom or kitchen, quick and mess free with Decorative Geometric Tiles.
---
In this listing you will find the possibility to choose from:
Floor Finish option for floor tiles: these vinyl floor tiles are the perfect solution to revamp your kitchen floor, bathroom floor, etc.
Not for floor option for wall tiles: these vinyl tiles are the perfect solution to revamp your bathroom wall tiles, kitchen wall tiles, kitchen backsplash, etc.
---
Our Floor Tile Stickers & Wall Tile Stickers are:





Note: Can be applied over existing tiles, directly onto the wall or floor.
---
HOW TO APPLY:
1 – REQUIREMENTS – DO´S & DON´TS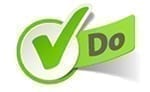 – First of all, make sure the surface is totally smooth / not textured;
– Furthermore, clean the surface you wish to cover with a degreaser (make sure the surface is dry before apply the tile stickers);
– Certainly, if for some reason the tile stickers are over the grout, cut that excess part;
– Finally, for a better and durable finish use a hair dryer and apply heat to the already applied tile stickers and with a smooth cloth make pressure. Make sure you do this process also on the edges.
---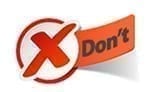 – First of all, do not apply the tile stickers on latex or silicone based paints;
– Furthermore, do not clean the tile stickers with abrasive materials;
– Even more, do not join the edges, the tile stickers may contract and show a gap;
– Certainly, do not apply on fresh painted walls, let them dry for about 3 weeks;
– Finally, do not start or finish the application over grout.
HOW TO APPLY A TILE STICKER?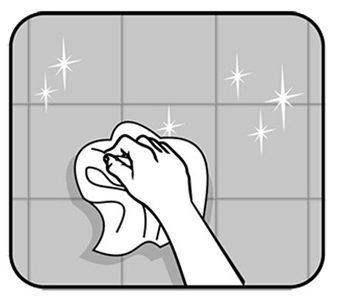 1 – Cleaning
Clean the surface, if possible use a degreaser. Make sure that surface is free of dust, dirt and moisture. Let it dry and you can star the application process of your tile stickers.
2 – Application 1 of 2
Peel 1/2 inc | 1 cm and crease back paper. Align the tile sticker with the top of the tile. Check the alignments and with a finger stick it to the tile.

3 – Application 2 of 2
With a soft cloth apply the tile sticker. If you find any bubbles or want to realign you can always lift and put it back. Avoid non-flat areas like rounded tile edges or tile grout.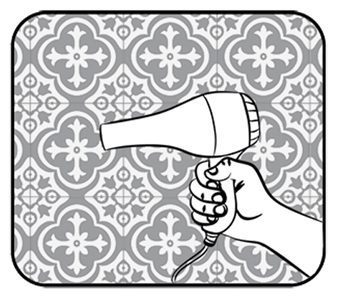 4 – Finishing 1 of 2
The best way to finish is using an hairdryer. Heat the tile decal and with a soft cloth press firmly agains the tile. This process will activate vinyl glue and will give yout the best results.

5 – Finishing 2 of 2
In the finishing process (heat the tile sticker and press soft cloth) focus in tile sticker edges.
If in any moment (1 day or 1 year) after you see an edge peeling off use this process.

---
Note: Product colors may vary slightly due to your monitor settings.
We will customize the tile stickers to the size of your choice, contact us!
Click for more amazing Tile Stickers.